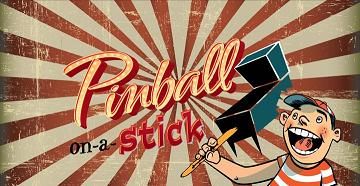 Last year over on Pinball News I read about Pinball on a Stick at the Minnesota State Fair. A couple of guys who are avid pinball collectors and route owners had the idea to open up their own pinball arcade at the fair. The fair used to offer an arcade, with newer arcade games and then switched over to redemption and kiddie rides a year later and didn't do so well. One of the guys Vince came up with the name "Pinball on a Stick" for their arcade and they opened up last year to rave reviews. This year is their second year and already it's doing really well. They have a great collection of mostly 90's Williams and some new Stern pinball tables.
When I first saw the logo I fell in love it, and it was even posted over on Stern Pinball's Facebook Page. I sent an email to them and got to talk with Vince and I got a T-Shirt with the logo on it and just got it in the mail today and it looks amazing. (Be sure to look for it on a future episode of Arcade Hunters) The Minnesota State Fair runs until Labor Day, so if you happen to be in the area be sure to check em' out and give em' some love!

LONG LIVE PINBALL!
Pinball News Article
Pinball on a Stick Homepage
Thanks for checking out the site today and be sure to keep checking back in this week for another Street Fighter Home Port Review and another Classic Video making it's way here to the site for the first time.